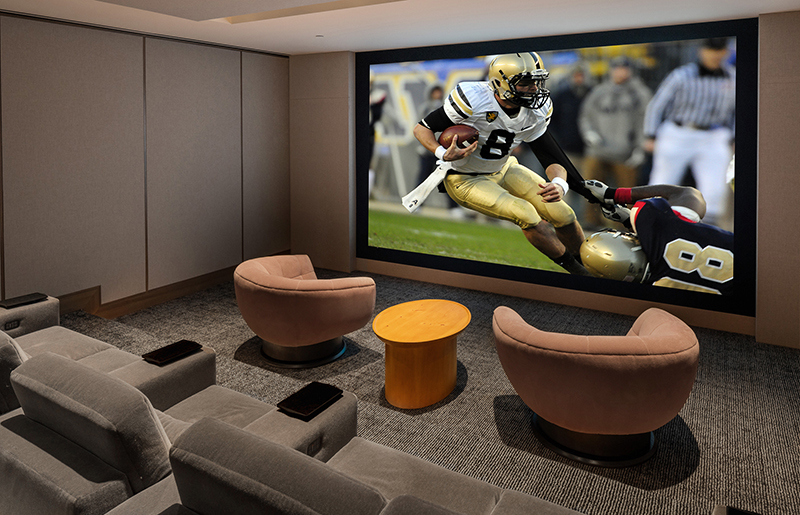 Turning Your Media Room into a
Multipurpose Space
What do you picture when you envision a media room? Probably a movie theater style room in a dim basement with fixed seating. The room is static and single-purpose. This is likely a room you only visit on special occasions when you want that movie theater experience. You cannot use it for much else, so it likely sits unused most days.
How can Prime ECS technology give you the perfect multipurpose room?


What if you could make the most of this space so it actually becomes a multipurpose, custom-built room that provides the best in modern luxury living? Using Prime ECS lifestyle technology, you can have a perfectly designed space with multiple functionality. Our technology is artfully incorporated into beautiful interior design to transform your single-use entertainment room into a multi-use space where you can make limitless memories with family and friends.
With advances in DSP (Digital Sound Processing) technology, we can make speaker locations more flexible, and use different types of acoustic materials to achieve the best sound quality for any space. Micro LED technology enables flat screen builds up to 22 feet, customizable to any space. These audio and visual technologies combined allows us to turn your desired space into a cinematic experience while still keeping the room multifunctional for daily use.
What activities can you enjoy in your new multipurpose room?


No longer is your media room solely reserved for movie night. You will still have that visceral, cinematic experience, but you will also be able to "host family events, use it for gaming, watch daily sporting events, and maybe even enjoy casual dining in a bar-like environment," says Prime ECS President, Owner Derrick Thames. When the screen is not in use, you can use it to decorate your home with high definition images of artwork.
Your dream home deserves a perfect, multipurpose entertainment space. Interested in learning more about multipurpose rooms? Be sure to check out our video here for the full details from Derrick.
Prime ECS brings together the best of modern technology and design in order to enhance the places we call home. Simple and friendly user interfaces are one of the cornerstone features that Prime ECS has focused on and perfected over the past 30 years. Give us a call at 877.226.4441 or email us at hello@primeecs.com to turn your home into the sanctuary you deserve.